"Anyone can kill the devil; that's why they always make teens the vampire slayers, the magical girls. But some kids can't even get that right; and that's why meangirl Neptune, tomboy Jupiter, and shy shy Venus have to endure one more week of summer camp and each other, singing boring songs about jesus, doing busywork for adults, and hoping god's radio can't hear them."
We Know the Devil is a visual novel starring three teenagers at a christian summer camp known as the "Summer Scouts". A week before camp ends, they have to spend a night alone in a cabin and wait for the devil to arrive. The game was released on September 12, 2015 on Date Nighto and February 16, 2016 on steam.[1] The game was co-created by Aevee Bee and Mia Schwartz, a sub-team within PillowFight, who call themselves Worst Girls.[2]
Gameplay
Edit
The user is put through seven decisions, and each time must select two teens to go together, and one to stay alone. The player has the option to keep all three teens in harmony, or tip the balance in favor of a preferred pairing. Depending on the decisions that the player makes, a different ending will be present.
Plot Overview
Edit
We Know the Devil follows three teenagers, Venus, Jupiter and Neptune, members of a summer program called the Summer Scouts for misbehaved children. After upsetting one of the councilors, The Bonfire Captain, the three teens, also known as Group West, have to spend a night in the loneliest cabin. The game follows the three as they deal with the difficult dynamics of a three person group, complicated feelings about each other, and meeting the Devil herself.
The game has four endings, titled the Yellow, Red, Blue, and True endings. The yellow ending is achieved by pairing Jupiter and Neptune together in a majority of the seven decisions, red by pairing Venus and Neptune, and blue by pairing Jupiter and Venus. The true ending is achieved by balancing the decisions equally, so no single pairing is picked more than any other.
Post release
Edit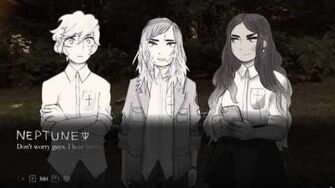 We Know the Devil was initially published to DateNighto, however, due to its success the creators pushed for a Steam Greenlight release. To aid with the release, the We Know the Devil team released an official trailer for the game. The Greenlight campaign was a success, and the game was released shortly after the Greenlight period ended. On steam, the games user-generated reviews are "Very Positive."
After around a year since the game released, creators Aevee Bee and Mia Schwartz worked to create more We Know the Devil content, this time in the form of a short, ten-minute free demo on PillowFight's official website. The demo follows Venus, Jupiter and Neptune shortly before the events of We Know the Devil.
External Links
Edit
References
Edit
Community content is available under
CC-BY-SA
unless otherwise noted.